Mr. Yagnesh Vellore
Founder and Director, Advanced Neurosurgery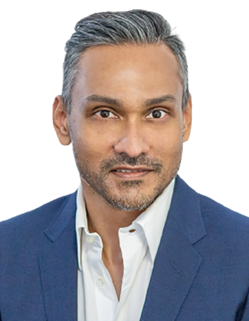 Mr. Yagnesh Vellore
Mr. Vellore is a leading Melbourne Neurosurgeon and Spine Surgeon, having performed the highest number of robotic spine surgeries in Australasia.
He was the first surgeon to perform ROBOTIC spine surgery at the prestigious Epworth Private Hospital in Melbourne.
He is recognized internationally for being a pioneer in Spinal Robotic surgery by Mazor Robotics.
He is also recognized for designing and developing new and improved spinal implants and prosthesis and adoption of disc replacement and disc sparing technology.
He is an active member of several international Spine Societies and is a current office-bearer of the Membership Committee of the prestigious North American Spine Society (NASS).
He is an alumnus of the prestigious University of Melbourne, where he completed his Medical degree in 2001. He is an accomplished playwright and during college days, he was actively engaged in theatre and drama and scripted several plays.
He obtained his Fellowship in Neurosurgery from the Royal Australasian College of Surgeons and has gained sub-specialty training in Advanced Spine Surgery options through world renowned centers in the USA and UK.
CLINICAL FOCUS
Mr. Vellore specializes in the treatment of spinal conditions.
Artificial disc replacement- cervical and lumbar
Robotic spinal surgery
Keyhole spinal surgery (MISS)
Neuronavigation
Anterior and lateral lumbar surgery
HOSPITAL APPOINTMENTS
Public Hospitals
Head of Unit, Neurosurgery, Northern Hospital
VMO Neurosurgeon, Austin Health
Private Hospitals
Consultant Neurosurgeon at the following private hospitals
Epworth Richmond
Epworth Eastern
Mulgrave Private (formerly Valley Private)
Knox Private
Warringal Private
Peninsula Private
Frankston Private
TEACHING AND EDUCATION
Lecturer, University of Melbourne Medical Students at Northern and Epworth Clinical schools
Training and Teaching of Neurosurgical residents and registrars, Austin Health
Preceptor, Mazor Robotics, for both Australian and International Spine surgeons
Teaching and Training of both Australian and International Spine surgeons in Spinal Disc Replacement
Supervisor, Robotic Spinal Fellowship at Advanced Neurosurgery
Mr. Yagnesh Vellore
Suite 9.2
89 Bridge Road
Epworth Richmond Hospital
Richmond, VIC 3121
Phone:
Fax: (03) 9429-0788